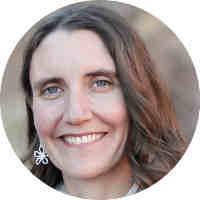 My name is Jill Baird. I am 44 years old and live in a small town in Southern Utah that sits between Lake Powell and several National Parks. I grew up in an even smaller town in Utah, where I was raised by amazing parents.
My husband Craig and I have been married for 20 years. We have six children; two boys, then three girls, and another boy to even it out. Their ages range from 4-19 years old. I've been blessed to have some of the symptoms of my chronic illness ease up during these pregnancies, enabling me to have this large of a family.  When my energy allows it, I enjoy hiking and being in nature.  I also love to scrapbook; a hobby I have given up in recent years but am anxious to start up again!
I had a lot of sicknesses even as a child; I guess you would say I just had a compromised immune system. But in between the many ear infections, sinus infections, strep throat infections, and many colds, flus and bronchitis, I was able to stay pretty active and involved in things up through my college years. When I was about 22 years old, things started to get worse in regards to my gastrointestinal health, and that began my 22-year journey with chronic illness that I've been on ever since.
My story may sound a lot like yours if you suffer from chronic illness; multiple doctors, specialists, tests, medications and procedures. Although many people who suffer from chronic illness eventually arrive at a diagnosis, that has unfortunately not happened in my case. After 20+ years of searching, we really don't have any more answers than when we started. The labs and tests just don't show what my body is feeling, so in most cases it "appears" that everything is normal. (I have come to hate the word "normal" by the way… another post about that one another day!) About 14 years ago, something did show up and I was diagnosed with Celiac disease. That was a huge piece of the puzzle! I thought that was the answer. But problems have continued even when I've been on a strict gluten free diet for so long. So we keep searching for more answers.
The exciting thing is, that as I'm getting this blog ready to launch, I have found some answers! We have recently found strong evidence that I have Lyme disease, along with a multiple set of infections such as Epstein Barr Virus and others. I am currently undergoing some treatments at a clinic in Pocatello, Idaho called West Clinic. I am feeling very hopeful as I go there that I will make great progress in my health and healing.
That's the short story.  If you'd like to know more about me, you can read The Long Story.